About John
For me, photography is an art for certain but it is also a medium to capture moments in time in space that tell us a story about who we are and what we were after time has passed. I was very taken at a young age with the photography of Dorothea Lange, Dick Waterman, John Cohen and others who did this so well. Looking at their photographs took me to so many places traveling in time and across an America that I would not have known but for them doing what they did. And I saw the art.
I have always framed pictures in my head in an artistic way. As I see the world around me I have always have felt compelled to share these visions. It never turns off and is a constant in my life and I am thankful for it as it gives me great joy. The art is in the perspective the angles and space and not seeing anything but the framed out part. This is what makes it art and this is what tells the story and defines it completely without distraction or confusion.
Being able to have the opportunity through photography to give others a peek into the world as I see it is truly a wonder. My main subject is musicians, as music and the artists who make it are my kin. To Kin means both to love and understand which is the same thing. The people and places in my photographs mean a lot to me and I am thrilled at being able to show them, thanks for peeking in !!
"It seemed that Pete Seeger and friends were always somewhere just around the corner, playing for free for some cause or another." It was during those years that John taught himself to play the guitar with the help of a few lessons, and would venture off to concerts and music events, often hitchhiking by himself to see Muddy Waters, Bill Monroe and the Blue Grass Boys, and countless others that left him with strong spiritual and visual impressions of these masters.
Following in his fathers footsteps at the age of 17 he set out to see our great country by thumb after which at the age of 18 he settled into a rather normal experience of working and pursuing many different interests in his spare time including music.   In 1996, John met and befriended blues harmonica legend Little Sammy Davis. The meeting presented John with many photo opportunities, which inspired him to pursue his interest in Artistic Photography. "At some point, I just looked around and could'nt stand to go another day without at least trying to document what I saw going on before me."
Inspired by Dorothea Lange & Dick Waterman, John, while earning a living driving a truck, set out to learn photography and try to portray what he was seeing so that it could be seen by others thtough his eyes, preserving moments in time artistically and historically.
What began in 2001, with a 2.0 mega pixel Sony camera, has turned into a self – imposed mission to document great musicians near and far with his camera. His current portfolio consists of tens of thousands of photographs of musicians and performing artists as well as other more common subjects. John shares his life, home & studio space with his wife photographer Danielle Herzog Rocklin.
John who is also co-founder of The Honesdale Roots & Rhythm Festival, sings and plays guitar in an Americana band called The Crackers as well as plays guitar and sings in a soulful & funky rock n roll band called The Barn Cats.
John
Bio:
John Rocklin was born September 11, 1962 in New York City. His father was noted sculptor Raymond Rocklin, (1922-2014).
Starting at a very early age, John's father took him to Washington Square Park (NYC) nearly every Sunday, exposing him to great music. "I stood right next to Bob Dylan,Woody Guthrie, Sonny Terry & Brownie McGhee, as they did what they did, although I can't remember details … but that's probably when I 'got it' — hearing the real stuff at an early age."
John grew up in Furnace Woods in the Hudson River Valley Region of New York State.       (continued left)
Little Sammy Davis & John 2006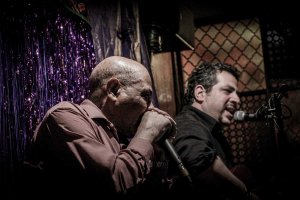 Levon Helm, Sammy & John 2002